Yummy Banana Nut Muffins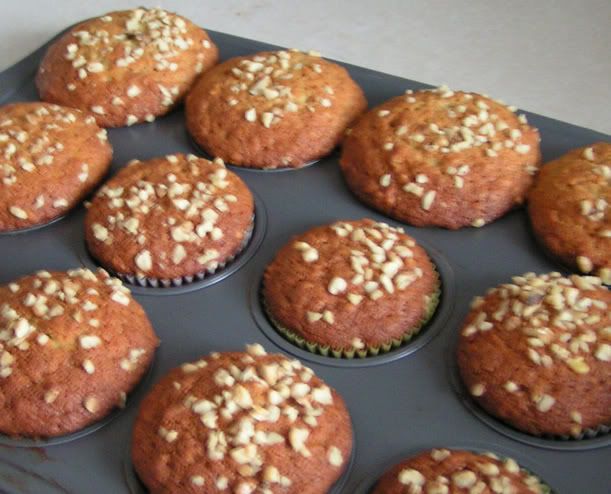 This is my all time favorite banana nut muffins recipe and is one of those things that my sister and I bake whenever we can. The flavour is reminiscient to a typical malayali appam my mom used to make. That stuff is addictive!! Cannot stop at just one.
This recipe is best made with bananas that have over-ripened and the peel has darkened in color. I know it looks kinda grose, but the flavour is so much more banana-ey. As a child I remember I was averse to bananas that had even the slightest discoloration in the peel and things havent changed!!
The recipe was originally for a loaf cake, but I just put the batter in muffin tins and works just as well, actually better cos you have a better idea about portion control. Cardamom(elaichi) is a must and is readily available,albeit in the ground form. This recipe will fill your kitchen with a delicious aroma that is sure to please.
Banana Nut Muffins
Ingredients
1. 2 Cups Flour
2. 3/4 Cup Unsalted Butter
3. 1 1/2 Cups Sugar
4. 3 Eggs
5. A pinch of salt
6. 1 Cup Mashed Banana
7. 1 tsp. Cardamom Powder
8. 1 tsp. Baking Soda
9. 1/2 tsp. Baking Powder
10. 1/2 Cup Chopped Nuts(Pecans or Walnuts) + extra for topping the muffins
Method
Preheat the oven to 350 F. Sift the flour with baking powder, baking soda, cardamom powder and salt and keep aside.
Cream together Sugar, Butter and Eggs till well blended. Add mashed bananas. Now add the flour mixture gradually and stir in the chopped nuts. Divide the batter into muffins tins and top with remaining nuts. Bake for 20-25 mins, till the tester comes out clean.