Shrimp & Pea Risotto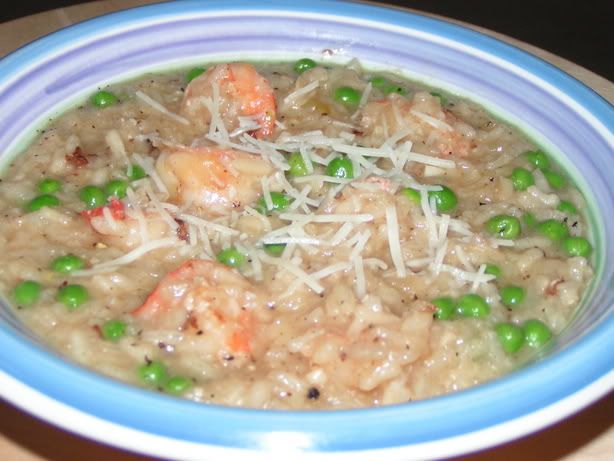 Risotto is not something I make very often, just because I can't seem to find the time to stand close to the stove and keep stirring to get a creamy, irresistible risotto that I always hear about. Well, as I found out, a little effort, fresh shrimp, good stock and voila! there you have a masterpiece!. The picture doesn't do justice to the way the risotto tasted, the recipe needs a considerable amount to stock, I used the store-bought variety, next time, I'll plan a little ahead and make some stock at home full of flavor and a little less heavy on the sodium. Plans, plans, plans!
Risotto rice or arborio rice as it is otherwise known is available in most grocery stores and it is a good idea to have it at home and snap it out when you are running low on groceries, as a few ingredients will do the trick. Make sure you don't skimp on the butter (maybe just a little bit) and freshly ground pepper.
I did cheat a bit and sneaked away from the stove, but hey, a gap in stirring didn't create a mess as long as you watch the heat. I'll be making this again soon, maybe with clams or scallops, any ideas are most welcome !
Ingredients:
1. 1 Onion, chopped finely
2. 2 cups Frozen Peas
3. 1 pound Shrimp, shelled & deveined
4. 1/2 stick butter
5. 1/2 Cup Marsala wine
6. 1 cup Arborio Rice
7. 1 1/2 tbsp. chopped Garlic
8. Stock (any kind that is available)
9. Salt to taste
10. Freshly ground pepper
11. Grated Parmesan
Method:
Melt the butter in a pan, add onion and garlic and keep stirring till soft. Add the rice and stir till it is coated with the butter, and then add the wine and boil till it is reduced.
Add ladles of stock and keep stirring till it is absorbed and the grains are almost done. Add the Shrimp and the remaining stock and stir for a few minutes till it is completely cooked. Add the peas and salt & pepper. Top with grated parmesan. Serve hot.