Gajar ka Halwa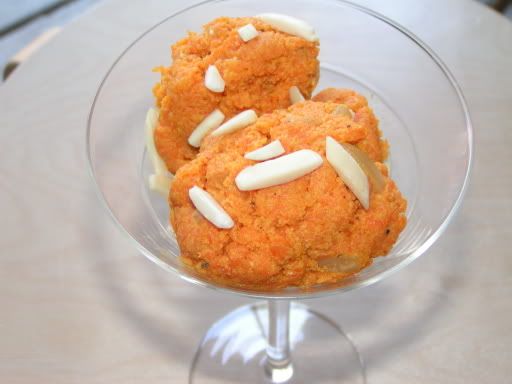 Gajar ka Halwa
and
Carrot cake
are two of my favorite things to make with carrots and hold a special place in my culinary repertoire. Though Gajar ka Halwa, which can be loosely translated to carrot pudding is a more time taking process the results are nevertheless rewarding. Made in the majority of the Indian subcontinent with slight variations, it is a great accompaniment to icecream much like a slice of pie.
My recipe may be tweaked a little bit to suit your taste, but I would strongly recommend using whole milk and ofcourse using cardamom, which is a key flavour. Grating the carrots was a time consuming process but if you have willing assistants, please feel free to delegate this task!
Can be eaten both hot or cold. I included almonds in my recipe, but raisins and pistachios would be a nice touch too.
Gajar ka Halwa
Recipe
Ingredients:
1. 10 large Carrots, finely grated
2. 3/4 tin Condensed milk
3. 4 tsp. Ricotta cheese
4. Sugar
5. Whole Milk - 3 1/2 to 4 cups
6. Handful of slivered Almonds
7. Freshly ground Cardamom -1 tsp.
8. 3-4 Tbsp. Butter or Ghee (Indian Clarified butter) + 1 Tbsp. to add in the end.
Method:
Heat the butter or ghee in a large pan and add the grated carrots and stir for a few minutes till the carrots are roughly coated with oil. Then add half the cardamom and the milk in small increments and keep stirring till the mixture starts to turn dry, then add some more milk and keep stirring, increase the heat if needed till all the milk is almost used up.
Add the sugar,condensed milk,slivered almonds & ricotta cheese. Keep stirring till the mixture starts pulling away from the sides of the pan. Add the rest of the cardamom and the ghee. Garnish with almonds.