Comfort Food with a Twist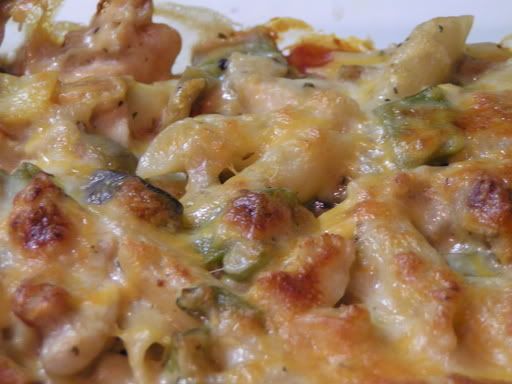 What is more comforting on a late sunday evening than some perfectly baked pasta with a little bit of spice to kick it up. I found this recipe on Better homes and gardens and was instantly interested in it. Mexican Baked Pasta!! an amalgamation of ingredients including those from south of the border ,and to make it even more wholesome I threw in a bunch of stuff -cubed cooked chicken, eggplant and zucchini.uhmmmm!!!
This is a very easy dish and comes out best when made with things right in your refrigerator. I will definetely make this in the future, will try replacing the chicken with some smoked sausage or shrimp or just make it a vegetarian medley.
To me, the most fascinating thing about this recipe was
Salsa
. Yes, Salsa. Nice chunky, spicy salsa. This was sheer genius. Why didn't
I
think about it. I enjoy Salsa with eggs for B'fast and of course with chips with a twist of lime and can eat with well almost anything else too.I couldn't wait to try this out.
As you can see, it came out wonderful, crisp and bubbly from the oven. I couldn't resist and scooped out a forkful. It was exactly how I thought it would be. Comforting and Delicious.
Here is the recipe,
From
Better Homes and Gardens
Ingredients:
• 3-4 Cups Penne Pasta
• 1 onion, chopped
• 1 red bell pepper, chopped (or 1 green bell pepper)
• Olive oil
• 2 Tablespoons all-purpose flour
• Salt
• ½ teaspoon ground cumin
• 3 cups milk
• colby cheese, cubed
• Monterey Jack cheese
• 1 cup bottled salsa
• 1/2 cup Olives
• 1 teaspoon Chili powder
• 2 Cups cooked cubed chicken
• 1 large eggplant, halved, cubed
• 1 zucchini, cubed
Directions
1. Preheat oven to 350F.Cook the pasta till aldente and keep aside. Heat the olive oil and cook the onion till soft and then add the chicken, pepper, eggplant and zucchini and stir till done. Add the flour, seasoning, cumin and the flour. Keep stirring to make sure that the mixture doesn't get lumpy. Add the cheeses and then the pasta. Stir.
2. Grease a baking dish. Then layer the pasta followed by the salsa and the remaining pasta. Top with cheese and olives and bake for around 20 minutes.